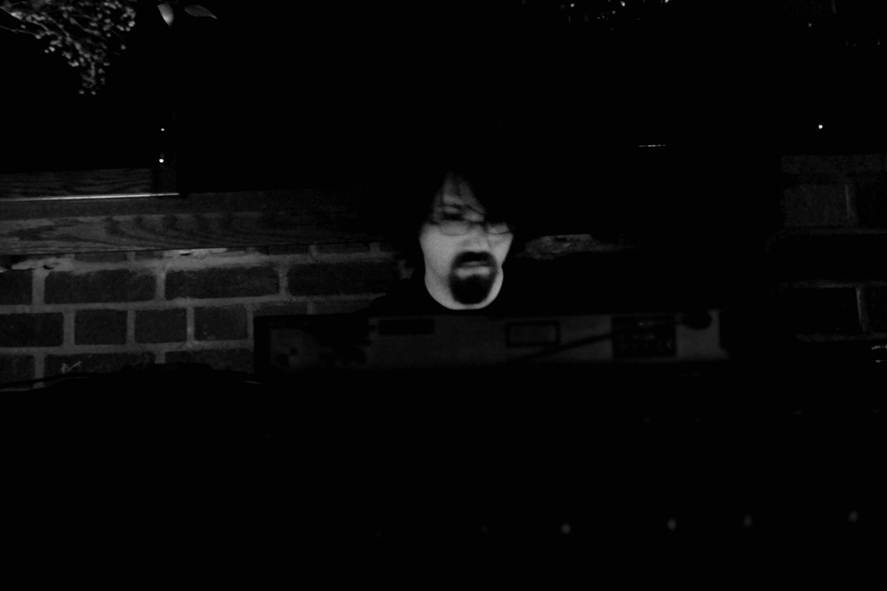 ---
Active since 2001, TiND (thisisnotdesign) is a video art group renowned on the Montreal scene for having developed their own techniques for live audiovisual creation. By hijacking common analog audio equipment such as the distortion pedal, TiND creates singular imagery that visually echoes the original sound material.
Their live performances are laboratories for real-time experimentation: a perfect mix of controlled improvisations with prepared interventions and mastered errors. Francis Theberge is the main character behind TiND.
Francis Theberge is also a long-time member of the artist collectives Global Noise Movement and Adventurous Music. He is also known as Thibörg.
You can find excerpts of his work on this portfolio, vimeo and mixcloud.
---
U P C O M I N G S H O W S
XXX
---
R E L E A S E S
2023 Insomnia/Noctambule (Adventurous Music) with Axophobe
2023 La Trame Sonore Perdue Au Titre Sans Nom Du 12 Janvier 2023 on Relatives Schoensein 2 Compilation (Adventurous Music)
2022 I (TLO Records) as Morin Heights Doom Quintet
2022 Snow Day At The Mall (self-released) as Thibörg
2022 Les Passagers d'Elysium (Adventurous Music)
2022 Nothing Is Hurt, Nothing Is Lost (TLO Records) as Morin Heights Doom Quintet
2022 Orchestre Maneuvré Dans La Nuit on NTWRK01 Compilation (<1)
2022 KyivNotKiev on Stand With Ukraine Compilation (<1)
2021 Doom Jazz Variations Part 2 (Adventurous Music)
2021 O' Holy Christmas Vapors of the Fancy Burning Christmas Tree (self-released) as Thibörg
2021 Hörère on AM 10th Anniversary Compilation (Adventurous Music)
2021 Doom Jazz Variations (Adventurous Music)
2021 The Burial Of William B. (Adventurous Music)
2021 Irrawaddy on Civil Disobedience 3 Compilation (Syrphe) as Thibörg
2020 Trimmed, Trammed & Truncated (Adventurous Music) with Hendekagon
2020 Trimmed003 on Relatives Schoensein Compilation (Adventurous Music)
---
P E R F O R M A N C E S
2023 Des Images Improbables Cinémathèque québécoise, Montreal
2023 Planet Myer Day w/ INYAN – Moritzbastei Leipzig, Germany
2022 Planet Myer Day w/ INYAN – Moritzbastei Leipzig, Germany
2021 Rave'in 10 w/ Xaviéra et VJ Tind – Dopamyne et VJ QUINT
2020 Rave'in w/ ottoman.grüw & Alex Borzych
2020 Dômesicle #3 • MPU • Das mörtal • Franz & Diskommander / SAT Montréal, Canada
2018-2020 MUTEK / SAT Montréal, Canada
2018 Ghost instruments / la ville mécanique / SAT Montréal, Canada
2018 Dérapage 18 – Grande soirée de projection / SAT Montréal, Canada
2018 Chromaesthesia DISTORSION – Église du Mile-End Montréal, Canada
2015 Raster Noton Label Night – Institut fuer Zukunft Leipzig, Germany
2015 Glitch – GFZK / Gallery For Contemporary Arts Leipzig, Germany
2011-2013 Nuit Blanche – Laïka Montréal, Canada
2011-2013 Applied Sound Arts – Grassi / Museum For Applied Arts Leipzig, Germany
2009 FUZE – Slimelight London, United Kingdom
2008-2012 Anakronism – Moritzbastei Leipzig, Germany
2006-2020 IGLOO – Old Port Montréal, Canada
2005-present Noise Floors at Wave-Gotik-Treffen– Moritzbastei Leipzig, Germany
2005-2010 Industrialisation – WERK 2 / Halle A Leipzig, Germany
---
P R E S S & B O O K S
2016 GNM15YRS